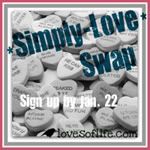 I have a bunch of other things to blog about including FiFi's birthday but hubby took my camera (with pictures still on it) to work so that will have to wait.
Today, thanks to
Gina
I stumbled across this fun swap (gift exchange) going on in the blogosphere for Valentine's Day.
It is simple, head to
Loves of Life
, enter your information in the linky, submit the form, and viola a package of Valentine goodness will be coming your way. Of course you have to return the favor. But really, shopping and presents, what is there not to like? And the gift limit is $15 so no need to worry about breaking the bank.
What are you waiting for? Head over to
Loves of Life
now. Maybe if you're lucky I'll be your swap partner!